NTK: STANDING APART FROM THE REST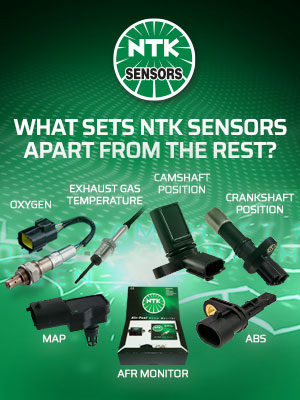 NTK has more than 40 years of experience in the sensor business and is Australia's leading sensor supplier.
What makes NTK's premier status within the industry possible is its unwavering commitment to its four competitive differences – range, availability, tech support and OE standards.
Today's modern motor vehicles must provide greater efficiency, optimise fuel consumption and maintain performance and power while providing improved safety and accident avoidance, cleaner outputs and pollution control. At the same time, reliability, long service life and engine protection are a must.
These functions all rely on the engine control unit (ECU), a powerful computer which performs millions of calculations each second while receiving inputs from sensors throughout the vehicle.
It is the function of these sensors that provide the enormous advances in vehicle operations thought impossible only years ago. As such, quality sensors are vital to help professionals working in service, repair and diagnostics ensure their customer's car is operating as it was intended by the factory.
Our new marketing materials aim to educate consumers on the importance of using quality sensors in their vehicles to ensure their vehicle's brain – the ECU – has the best and most reliable sensors powering it as possible, while also noting that quality sensors also mean faster diagnosis in times of trouble, which equals less downtime, lower costs and happier customers.
The last thing those working on customer vehicles should be worrying about is if the replacement sensor they have chosen is going to stand the test of time. As the sensor specialist, NTK applies its engineering expertise and goes the extra mile to test its full line of technical sensors beyond OE specifications so our customers can focus on moving onto the next job, rather than worrying about comebacks.
Testament to NTK's unique offering to the Australian aftermarket is its latest new sensor ranges, which are already proving popular within the Australian aftermarket with distributors, workshops and end-users.
Following success in Europe and the USA, NTK added to its already extensive catalogue of Oxygen Sensors, Exhaust Gas Temperature Sensors and Air Fuel Ratio Monitors last year by releasing four new products marking a significant expansion of the NTK portfolio:
Engine Camshaft Position Sensor – these sensors report camshaft rotation timing and speed. A vital component of the ignition system and vehicle computer communication, the engine camshaft sensor determines the exact position and speed of the camshaft(s) to ensure the proper timing of fuel injection and ignition as well as VVT operation.
Engine Crankshaft Position Sensor – these sensors report crankshaft rotation timing and speed. Like the Camshaft sensor, the Engine Crankshaft Position Sensor plays a vital role when it comes to the ignition system and vehicle computer communication, determining the exact position and speed of the crankshaft to ensure the proper timing of fuel injection and ignition while also providing misfire monitoring.
MAP Sensor – these sensors determine the intake manifold pressure or vacuum. These sensors are a major contributor to fuel injector pulse width and ignition and valve timing, reporting engine load to the engine's computer and ensuring proper air/fuel ratios.
ABS Wheel Speed Sensor – these sensors monitor the vehicle wheel speed. The ABS control module uses the information received from the ABS wheel speed sensors for several systems such as anti-lock brake, traction control and stability control systems. Sensors can be found at each wheel as well as at the differential or transmission tail shaft housing.
NTK have always been the sensor specialists you can count on, and this is now even more true thanks to our significantly expanded range.
There is no doubting that with these new offerings, which provide excellent Australian vehicle parc coverage and open up further OE replacement opportunities for aftermarket customers, our position as a sensor manufacturer has been cemented.